The municipality Oberndorf near Salzburg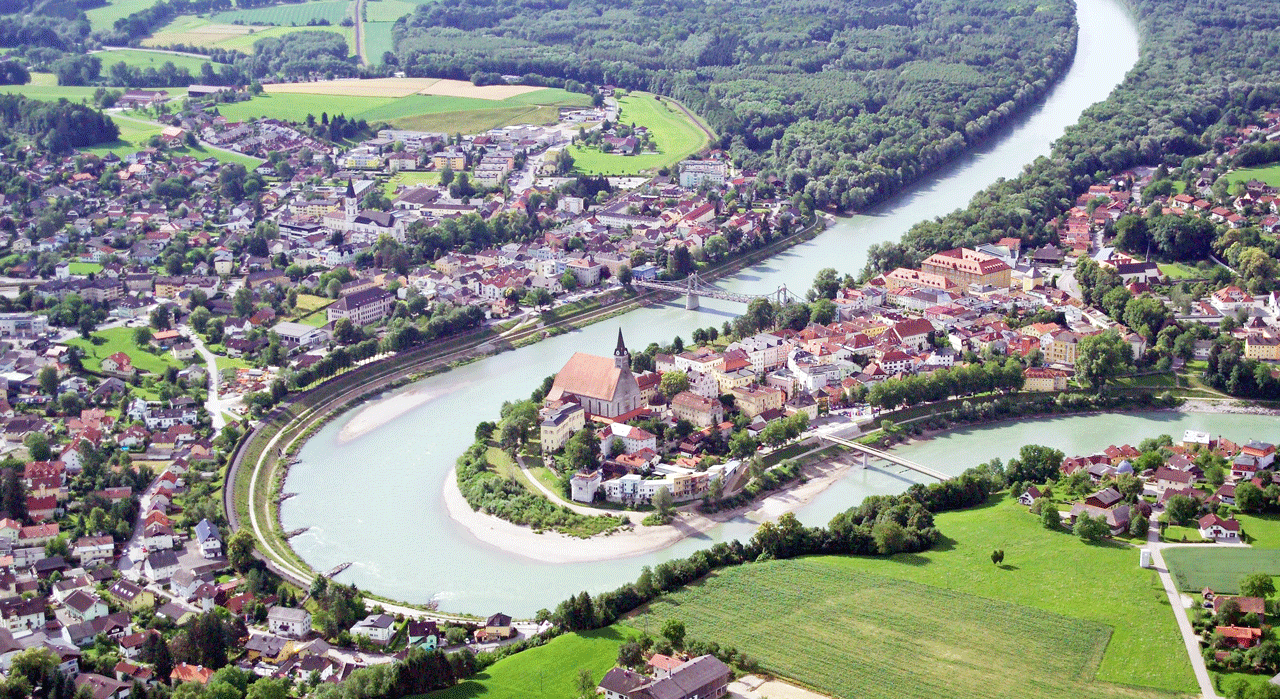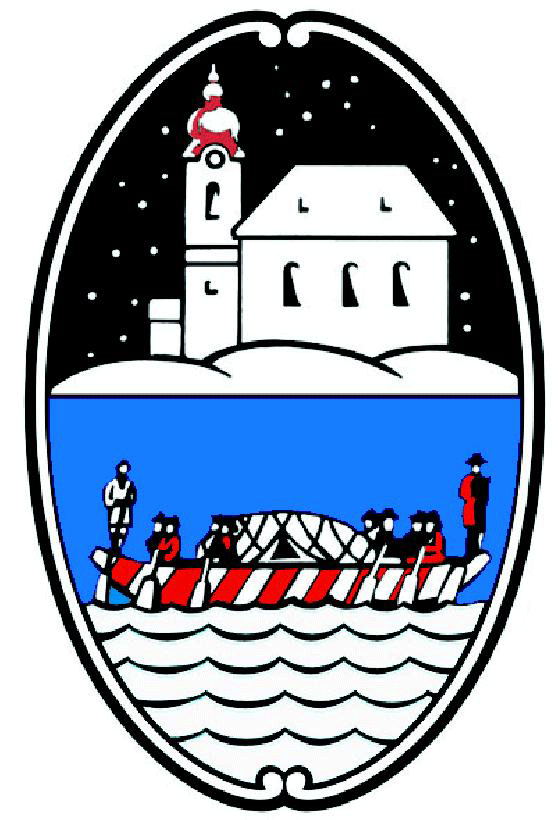 Aerial view Oberndorf - Laufen, City arms of Oberndorf
Oberndorf near Salzburg is an austrian city with about 6000 inhabitants. It's located in the northern administrative district of the federal state Salzburg which is called Salzburg-Umgebung (Flachgau). 17 km away from the regional capital city of Salzburg which is named Salzburg too. The urban area comprises about 4.5 sqare kilometers.
The Christmas carol "Silent Night!, Holy Night!" was performed for the first time in Oberndorf.
Franz Xaver Gruber (melody 1818) and Joseph Mohr (lyrics 1816) sang the song on Christmas Eve 1818 at the former St. Nikolaus church. So this is the place where the journey of the song around the world starts.
Nowadays the Silent Night Chapel is located at the same place where the former church was. It was inaugurated in 1937. Every year on December 24th a memoral celebration takes place in front of the Chapel. Next to the Chapel you can find the Silent-Night-Museum in the former home of Joseph Mohr.
The new St. Nikolaus church is located in the city center of Oberndorf.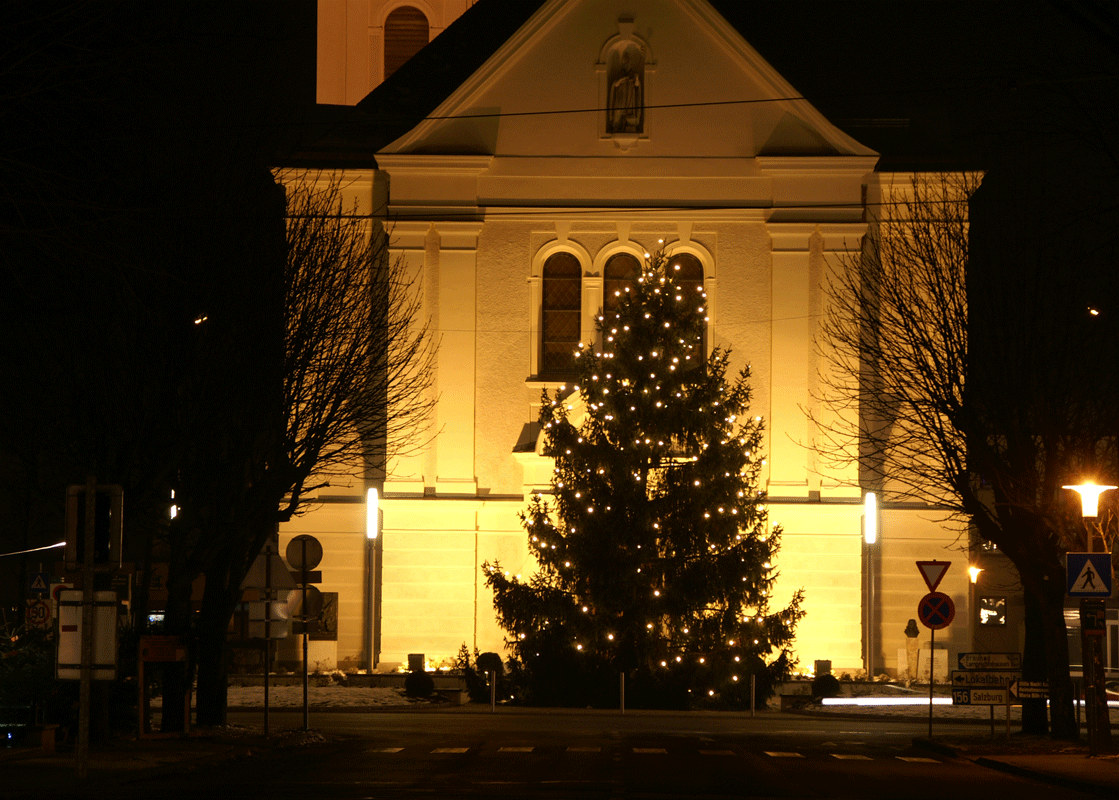 St. Nikolaus church
Obendorf is a border town to Germany. The river Salzach has the border function. In former days Oberndorf was a part of Laufen which is the German city next to the border. In 1816 the seperation took place in case of the contract of Munich where Salzburg including Oberndorf was assigned to Austria and the Bavarian region became a part of Germany.
Up to 1871 there was salt transportation along the river Salzach. In case of the railway building the former important Salzach skippers lost their reason for existence so the Salzach shipping were ceased completely. To keep the memory of this part of the history Oberndorf and Laufen celebrating festivities along the river.
Oberndorf was a small town with only a few houses along a bend in the river and further downstream until the 19th century. To connect the two cities Oberndorf and Laufen there was a wooden bridge near the bend. Nowerdays there is the so called Europasteg. In case of frequent floods which damaged and destroyed the buildings of Oberndorf the old city were largely abandoned. In 1899 the hightest flood until then took place. It was that hight that there was the decision to build the new bridge upstream to higher altitudes. So they began the construction of the new bridge (Salzachbrücke 1901-1903). In the course of these happening the new center of the city and the new church were built next to the new bridge.

Municipality Oberndorf further information...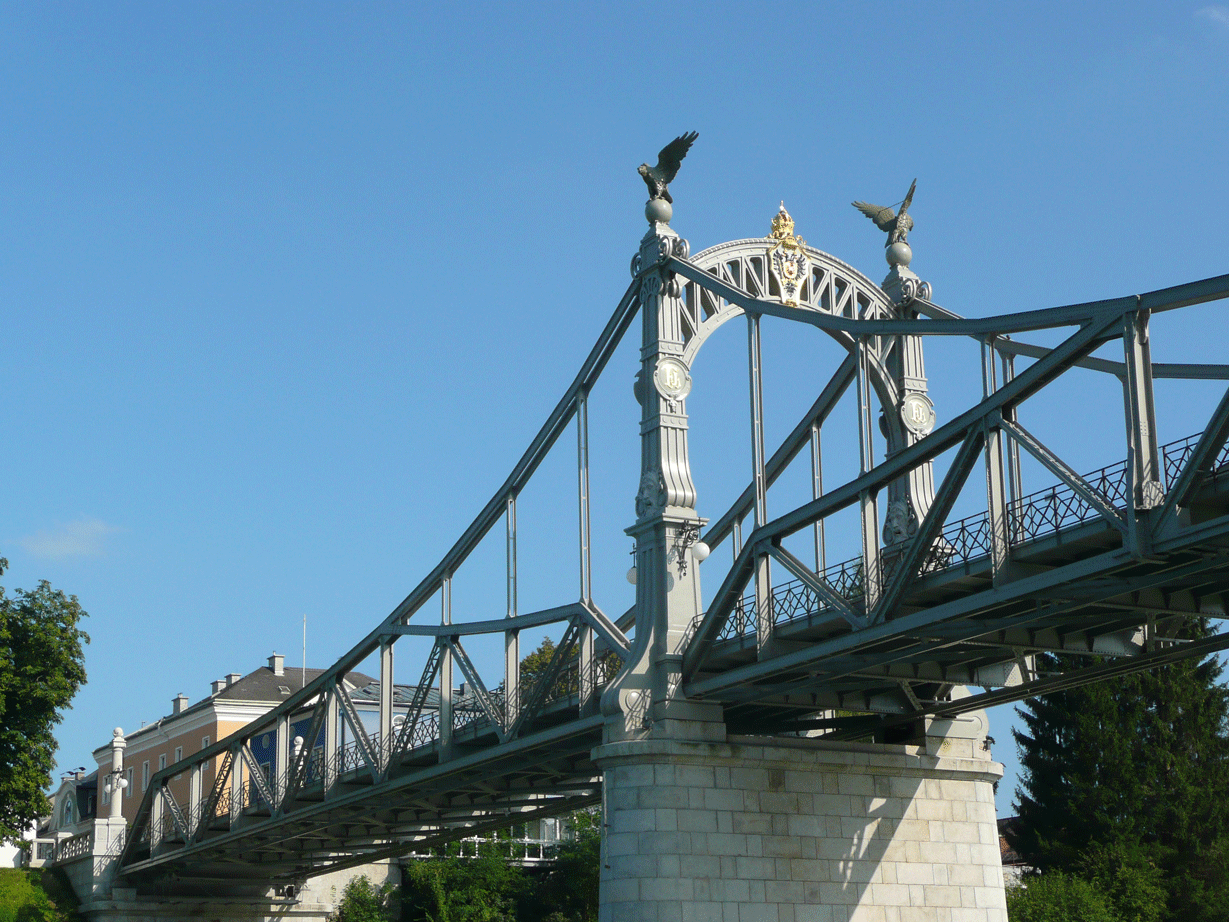 Bridge between Oberndorf (AUT) and Laufen (GER)